Roll over image to zoom in
Click on image to zoom
Description
Once you slip on these stylish shades, you'll agree that it good to wear the KING. This sunglass gives you all-around eye protection in a handsome package that fitted for large faces. If you're looking for a bold look in eyewear, look no further.
Weight: 30g
Available in prescription
Thermogrip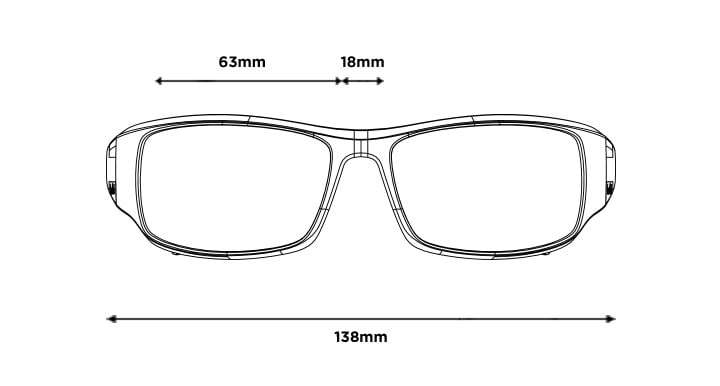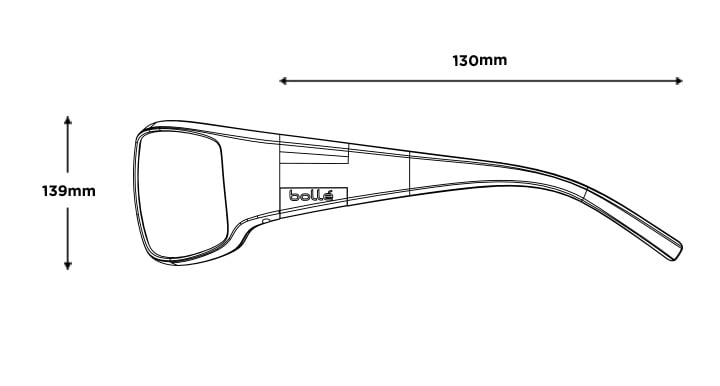 Additionnal Lens Category
Technologies
Thermogrip / Thermogrip Hydrophilic Nose Piece / Thermogrip Hydrophilic Temple Tips
No technical sheet to display
+ REDISCOVER EARTH WITH VOLT+ + REDISCOVER EARTH WITH VOLT+ Bollé Volt+ is the first sunglass lens ever created using Artificial Intelligence. Bollé tested over 20 million combinations to develop a patented solution which delivers a richer colour experience than is humanly possible. Volt+ offers 30% superior colour enhancement to help you see colours you've never perceived before while maintaining white balance. In addition to enhancing all colours, Volt+ offers high contrast vision, improved depth perception and high performance polarization. Available on some models only.       + WHAT IS PHANTOM? + WHAT IS PHANTOM? Phantom is Bollé first photochromic lens with phenomenal optical clarity. It adapts to any light condition, ensuring precise visual acuity whatever the weather. The lens tint changes with the light from cat.1 to cat.3. Enhanced vision whatever the conditions. Phantom+ combines all of our 3 technologies adding a 4th additional element: polarization. Polarized lenses are largely recognized today for their benefits in terms of blocking parasitic light reflections. So it felt right to add them to our already unbeatable lens technology to improve its level by yet another step. Equipped with Phantom+ lenses, you will be ready to take on any adventure.       + THERMOGRIP® TECHNOLOGY + THERMOGRIP TECHNOLOGY Our Thermogrip thermoplastic rubber is specificaly engineered to get gripier when in contact with water and sweat. Inserted at strategic touch points of our frames such as the temples or the nosepiece, it ensures a perfect fit no matter the intensity of your activity.
The Bolle King Sunglasses include following features:
| Feature | Availability |
| --- | --- |
| Brand | BOLLE |
| Model | Bolle King Sunglasses |
| For | |
| Collection | Sunglasses |
| Shape | |
| Type | Sunglasses |
| Temple Material | |
| Front Material | |
| Polarized | |
| Prescription | False |
| Flex | |
| Geofit | |
| Theme | |
| Free Shipping | Yes |
| 100% Authentic Brand New Eyewear | Yes |
| 120 Days Money Back and No Restocking Fee | Yes |
shipping method
Currently, we ship all packages via USPS, or UPS. Using the date of you invoice as a reference, please allow a 3-7 business days processing period. Depending on your location and our inventory situation usually takes another 10-15 days for you purchases to arrive. 
US Price based Shipping Rates

Price Range
Shipping Rate Amount
Standard Shipping
$0.00 – $3.99
$2.99
Standard Shipping
$4.00 – $7.99
$3.99
Standard Shipping
$8.00 – $15.99
$4.99
Standard Shipping
$16.00 – $29.99
$5.99
Free Shipping
$30.00 – $50.00
Free
Standard Shipping
$50.01 – $70.00
$7.99
Large Package
$70.01 – $100.00
$15.99
Extra Large Package
$100.01 and up
$29.99
back order
Because of high demand for the brand name products, some items may be on the back order. Products usually come off the back order in 2-4 weeks.